See on Scoop.it – Pahndeepah Perceptions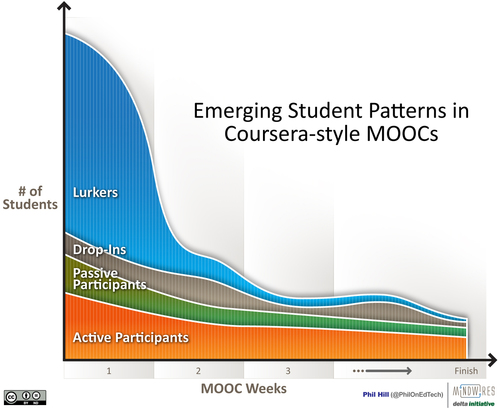 Keith Wayne Brown's insight:
With the exception of the drop-ins–because universities control access to content pretty well–these numbers mirror many of the patterns I see with standard education models in large classrooms. Now, in class settings where there is less than 15 students, the lurker becomes more visible and a professor can tease the passive students into being more active.
See on www.e-learn.nl
On coming back from an afternoon meditation, I was suddenly struck by a realization about these numbers: They match patterns I note regularly in any and all religious and political organizations.
That is, anything that is "massive" or open to more than a 100 people tends toward this kind of pattern: Lurkers, drop-ins, passive attendance, and active attendees. It also tends toward a big drop off from all concerned over time.
Related articles